3 Years in Hospitality Management
(CTH UK Level 4-5-6)
The Hospitality Management programme is for those students who want to make a career in the global hospitality and tourism
Industry! It offers exciting opportunities to graduates who wish to travel and take up careers both locally and abroad. It is one of
the world's fastest growing and most dynamic fields of employment, with positive trends forecasted for the coming years. With 8.7% of Worldwide employment in Travel and Hospitality, the Industry is expected to grow by 4% per annum from 2013 to 2023
and the world will have 337 million jobs in Hospitality by 2023. Every 1 job in 10 Jobs on this Planet!
This programme is ideal for people wishing to for an excellent prospect in the Hospitality & Tourism Sectors like:
 Hotels, Resorts and Game Lodges
Restaurants and all other types of Food Service Operations
Cruise Ships, Airlines and Luxury Passenger Rail
Theme Parks and Casinos
Meetings, Events and Incentives
Local Tourist Destinations and Attractions
Spa & Wellness Centres
Programme Details
Duration:
3 Years
Eligibility:
High School/Grade 12/A/AS Level
or Grade 10 or equivalent + Foundation Course (CTH Level 3 in Hospitality Management)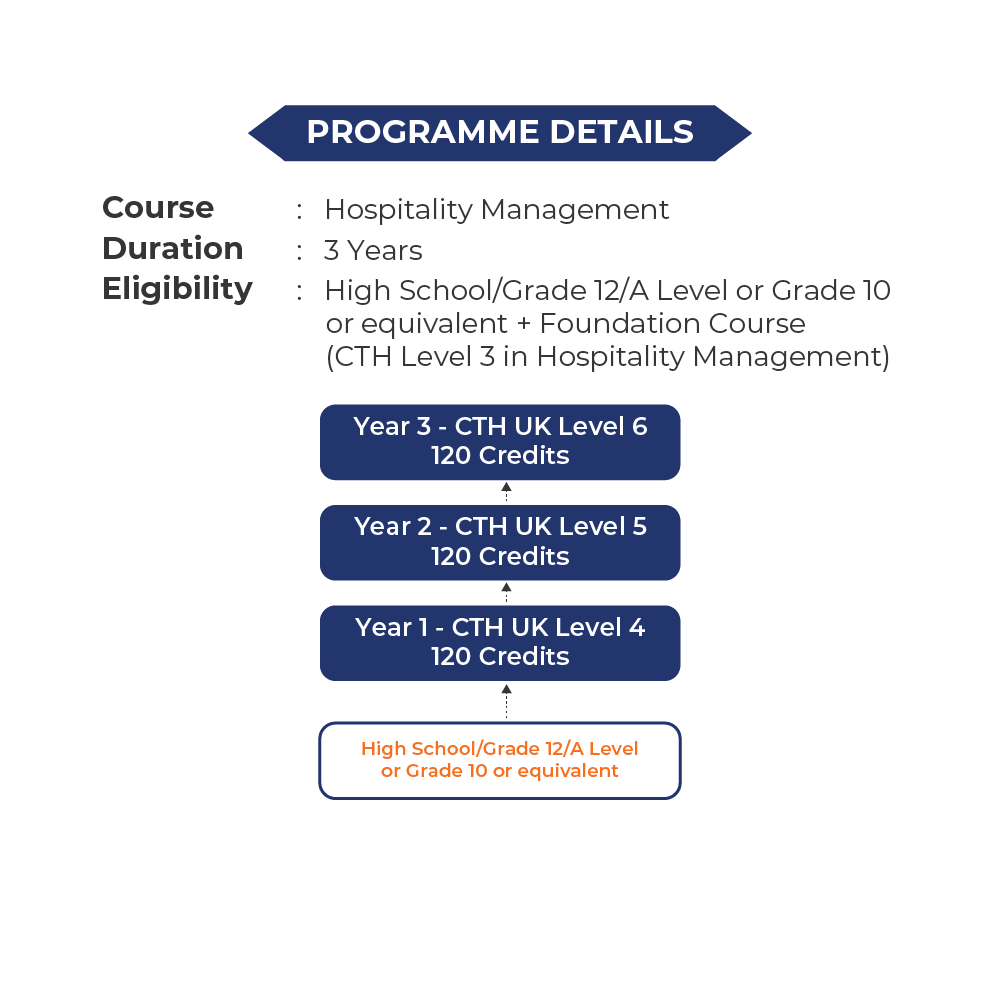 Year 1
CTH UK Level 4 Diploma in Hospitality Management
Module 1
Finance in Tourism and Hospitality
Module 2
Customer Service Management in Tourism and Hospitality
Module 3
Global Tourism and Hospitality
Module 4
Rooms Division Operations
Module 5
Rooms Division Supervision
Module 6 
Food and Beverage Operations
Module 7 
Food and Beverage Supervision
Year 2
CTH UK Level 5 Advanced Diploma in Hospitality Management
Module 1
Understanding Funding and Finance in Tourism and Hospitality
Module 2
Human Resource Management in the Tourism and Hospitality Industry
Module 3
Strategic Marketing in the Tourism and Hospitality Industry
Module 4
Customer Relationship Management in the Tourism and Hospitality Industry
Module 5
Contemporary Issues in the Tourism and Hospitality Industry
Module 6 
Food and Beverage Management
Module 7 
Facilities Management in the Tourism and Hospitality Industry
Year 3
CTH UK Level 6 Professional Diploma in Tourism and Hospitality Management
Module 1
The Strategic Impact of the Business Environment
Module 2
Business Strategy for Hospitality and Tourism
Module 3
Managing Events for Hospitality and Tourism
Module 4
Quality Management for Hospitality and Tourism
Additionally, the Industry Ready Skills that you will learn:
Guest Experience Management
Barista Management
Food Cost Management
Social Media for Hotel Business
Hotel Management Software's
Bakery and Confectionery
Event Hospitalityv Wines Fundamentals
Bar Management
Spa Operations
Champaign Essentials
Culinary Tourism
Five Star Hotel's Facilities
Management
Catering for Wedding
Bartending
Resort Operations
Banquet and Catering Services
Art of Menu Engineering
Barista Management
Food Cost Management