THE PLACE TO BE!
The world is experiencing exponential growth in the events, media and entertainment industry. This makes it a suitable time to be part of the events management industry covering a spectrum of weddings, education fairs, conferences, corporate seminars, expositions, music festivals and many more events.
Industry stalwarts foresee a robust growth trajectory for the Events Management industry, considering the strong backing of high marketing spends from premium companies and the growth of personal events, MICE (Meeting, Incentives, Conferences, and Exhibitions), activations and sports. As the world sets its eyes on Expo 2020 hosted by Dubai, a first World Expo to be staged in the Middle East, North Africa, and South Asia, it also triggers a robust growth for the events industry.
Rising number of high net worth individuals and families directly increase the expenditure towards personal events
Expo 2020 will be creating more jobs in the events & entertainment, tourism & hospitality industry. According to research by Deloitte, events management is one of the biggest skill sets missing for 2020
Dubai World Trade Centre (DWTC) events drive approx AED 13B in economic value for Dubai, fuelling record 3.3% contribution to the Emirate's GDP. Sales within MICE sector drive more than four-times value in overall non-trade business activity and support over 84,000 jobs
When the economic impact of Dubai's events is analyzed, the majority USD 407M i.e 57% of the gross expenditure is estimated to come from some of the major annual events Dubai hosts

Omega Dubai Desert Classic
Standard Chartered Dubai Marathon
Dubai Tour
Dubai
Duty Free
Tennis Championships
Dubai World Cup
DP World Tour Championship
Emirates Airline Dubai Rugby Sevens
New Age Marketing Tool
The events management industry has always played a pivotal role in the Marketing and Communications space for companies, and has evolved over time with new opportunities and features. Due to the growth in technology, this industry has witnessed a number of innovations, one of which is the Digital Event. It is a platform that allows the marketing team to think outside the box and attract customers.
Explore Your Creativity
The three cornerstones of the industry are
CREATIVITY
IDEATION
ABILITY
This means, not just possessing the three, but utilizing all three of them in conjunction. If this description sounds like you, then you are in the right place! .
Need for Events Management Education
Evolving Industry
The revolutionary growth of events has created a surge in the need of professionals to manage growing individual & organizational needs for image & representation.
Rising Demand for Professionals
With the current number and diversity of events, the industry is in need of professionals who are able to manage the scale and size of such events. This makes the industry a lucrative platform to showcase talents.
Diverse Career Options
The industry offers opportunities to students of all personalities; leaders and role models may pursue the role of an event manager, or more hands-on students can pursue positions such as event planner/coordinator.
Ideal for go-getters
Out-of-the-box thinking, adaptability, and a creative spark are the three things that make a good event management executive, and if these three qualities fit your profile, you're on the right path!
Right Place, Right Time
Given the promising future of the industry, early entrants can reap ample rewards leading to a progressive career ahead.
Lucrative earning
The number of individuals and companies hosting and organizing events has gone up in recent years. Thus, the demand for well-qualified, professional event managers has drastically increased compared to the supply, creating constant lucrative opportunities.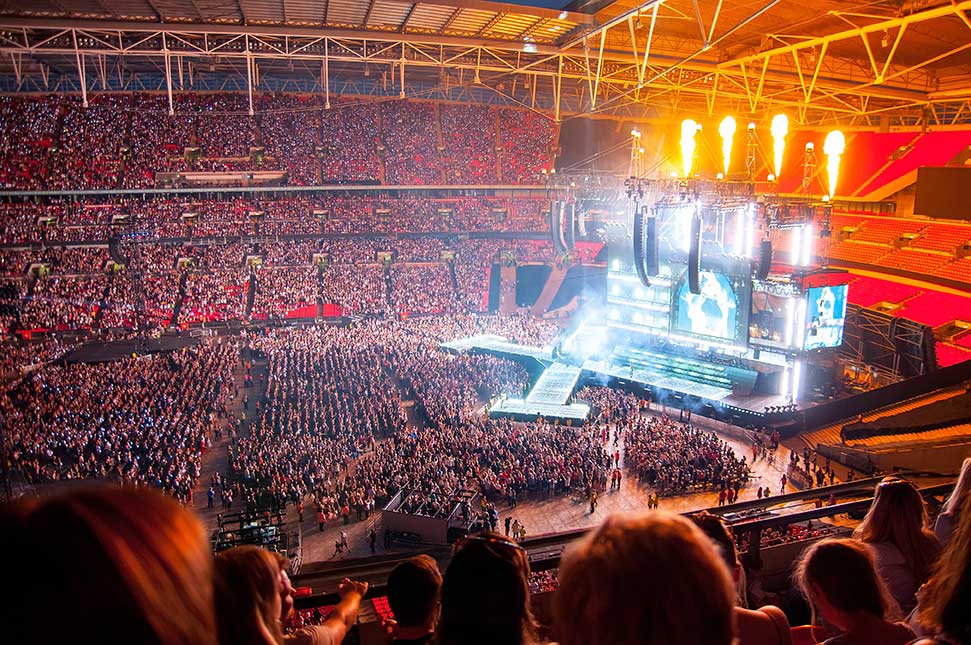 Varied Designations
The event management industry has numerous positions to be filled such as:
Event Planner
Event Coordinator
Event Production Head
Public Relations Officer
Event Executive (Budgeting & Finance)
Event Legal Executive
Tourism Officer
Outdoor Activities Manager
Conference Centre Manager
Wedding Planner
Venue Manager
Sponsorship Coordinator
Catering Services Manager
Event Social Media Coordinator
Staff or Volunteer Coordinator and many more.
Target Industries
A large number of our entrepreneurial students form their own companies in the following industries:
Marketing & Communications
Corporate Houses
Star Hotels / Resorts / Clubs
Print Media
Radio Stations
Advertising Agencies
Lifestyle Malls
PR Agencies
T.V. Channels
Media Houses
Movie Production Houses
Educational Institutes
Travel & Tourism Companies
Music Companies
Super Specialty Hospitals
M.I.C.E. Industries
Fashion Houses
Sports Management Companies
Experiential Marketing Companies
NGO
Social Media
Event Management Companies