2-Years Pathway for Masters – transfer to Partner University
Nest Academy's Pathway for Postgraduation in Strategic Sports Management is a knowledge-oriented programme that focuses on advanced aspects of modern Sports Management industry. It is designed for current and future higher education professionals who wish to integrate their passion with profession. By the end of this programme, students will be well-versed in all facets of Sports Management and will have thriving careers as confident and competent professionals.
Our theory-to-practice curriculum enables students to have comprehensive theoretical knowledge and considerable practical experience in equal measures. The actual work experience allows students to develop technical skills, confidence and a chance to network with professionals of the industry. Nest Academy's Placement Cell offers diverse opportunities to students in Marketing, Advertising and Public Relations, Finance, Law, etc. related to Sports Industry.
*Top-up degree awarded by Partner University in UAE or International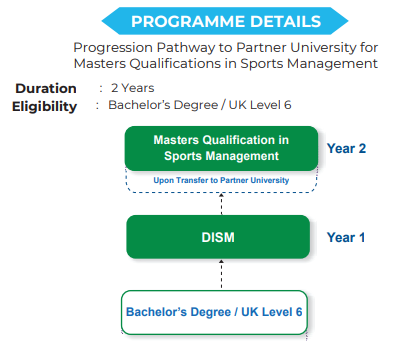 Programme Details
Duration:
2 Years
Eligibility:
Bachelor's Degree / UK Level 6
Semester 1
Module 1
Strategic Planning for Sport Business
Module 2
Finance for Strategic Sport Managers
Module 3
Sports Operations Management
Module 4
Personal Development for Leadership and Strategic Management in Sport
Semester 2
Module 5
Strategic Human Resource Management in Sport Organisations
Module 6
Strategic Marketing for Sport
Module 7
Sports Events Management
Module 8
International Sports Business Environment
Semester 3
Module 9
Contemporary Strategic Issues in Sports Management
Module 10
Strategic Sports Management Dissertation
Semester 4
Campus to corporate (Business Communications, Business Etiquette, Resume and Profile Building, Industry Projects)
Practical Training Photos
Reach Us
306, 3rd Floor, Block 10,
Dubai International Academic City,
Dubai, UAE

Level 2A,Gate A5,Dubai International Stadium, DubaiSports City, Dubai