Progression Pathway for Top-up to
BA (Hons) Sports Management*
by credit transfer to Partner University in UAE or International
With a focused aim of imparting a strong knowledge base and preparing students for the myriad opportunities in the Sports Management Industry, Nest Academy's Pathway for Graduation in Sports Management is an ideal programme that melds the cultural and business aspects of sports. The programme offers a well-developed understanding of the complexities and challenges of the 21st Century Sports Management industry and aids students to be skilled professionals.
Our theory-to-practice curriculum enables students to have comprehensive theoretical knowledge and considerable practical experience in equal measures. The actual work experience allows students to develop technical skills,
confidence and a chance to network with professionals of the industry. Nest Academy's Placement Cell offers diverse opportunities to students in Marketing, Advertising and Public Relations, Finance, Law, etc. related to Sports Industry.
*Top-up degree awarded by Partner University in UAE or International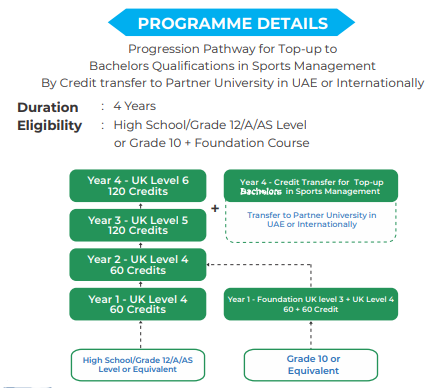 Programme Details
Duration:
4 Years (Full Time)
Eligibility:
High School/Grade 12/A/AS Level
or Grade 10 + Foundation Course
Programme Highlights
Sports Facility and Event Management
Managing Leagues and Athletes
Law & Risk Management in Sports
Leisure and Recreation Management
Media Relations in Sports Business
Technologies in Sports
Negotiation and Athlete Presentation
Sports Journalism
Sports Celebrity Management
Sports Entrepreneurship
Sports Tourism
Year 1
Module 1
Introduction to the Sports and Leisure Sectors
Module 2
Professional and Academic Skills
Module 3
Sales and Marketing
Module 4
Principles of Management and Human Resourcing
Year 2
Module 1
Health, Fitness and Exercise
Module 2
Financial and Management Accounting Techniques for Managers
Module 3
Cultural Perspectives
Module 4
Digital Communications
Year 3
Module 1
Sport and Leisure Operations
Module 2
The Sport Consumer
Module 3
Sports Development and Coaching
Module 4
Work-Based Project and Career Development (double module)
Module 5
Leading Work Teams
Module 6
Business Law
Module 7
Business Ethics
Module 8
Work-Based Project and Career Development (double module)
Year 4
Module 1
Contemporary Issues in Sports Management
Module 2
Sports Events Management
Module 3
Services Marketing Management and Public Relations
Module 4
Strategic Management
Module 5
Dissertation
Module 6
Academic and Research Skills
Practical Training Photos