Pathway for Top-up to MA in Strategic Events Management
Nest Academy's Pathway for Postgraduation in Strategic Events Management has been designed to enhance the students' knowledge and skills in the interdisciplinary industry of Events Management. Our programme integrates application-based lessons with contemporary issues and enables students to meet their personal and professional development goals. In the dynamic and competitive industry, a majority of the Event Management companies and related corporate houses prefer candidates with a Master's degree with industry-relevant skills.
Our theory-to-practice curriculum enables students to have comprehensive theoretical knowledge and considerable practical experience in equal measures. Nest Academy's Placement Cell offers diverse opportunities to students in Public Relations, Advertising & Marketing, Media & Entertainment, Travel & Tourism, Hospitality and other related industries.
Programme Details
Duration:
2 Years
Eligibility:
Bachelor's Degree / UK Level 6
*Top-up degree awarded by Partner University in UAE or International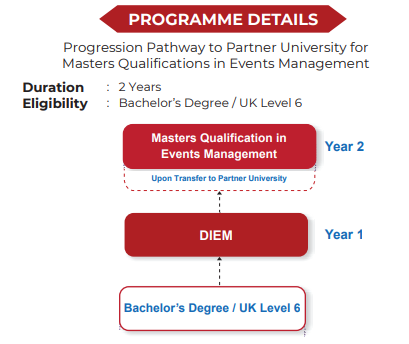 Programme Highlights
Digital Media Strategy
Event Photography & DJ
International Destination Weddings
Short Films Production
Event Technologies
International Event & Entertainment Business
Sports Event Management
Stage, Lights and Sound Management
Hospitality and Catering Management
Semester 1
Module 1
Strategic Planning of Events
Module 2
Finance for Strategic Event Managers
Module 3
The Events Industry
Module 4
Personal Development for Leadership and Strategic Development in Events
Semester 2
Module 5
Strategic Human Resource Management in Events Organisations
Module 6
Strategic Marketing for Events
Module 7
Event Sponsorship and Fundraising
Module 8
Crisis, Risk and Strategic Change Management in Events
Semester 3
Module 9
Contemporary Strategic Issues in Events Management
Module 10
Strategic Events Management Dissertation
Semester 4
Campus to Corporate (Business Communications, Business Etiquette, Resume and Profile Building, Industry Projects)
Practical Training Photos
Reach Us
306, 3rd Floor, Block 10,
Dubai International Academic City,
Dubai, UAE

Level 2A,Gate A5,Dubai International Stadium, DubaiSports City, Dubai