Pathway for Top-up to BA (Hons) Events Management
N|A|M|E has designed a Pathway for Graduation in Events Management programme for international students. It teaches the fundamentals of Global Events Management industry. Through our uniquely designed Training Methodology, we will acquaint students with the core aspects of – creativity, production, and marketing of Events Planning and Management. The programme paves the way for quick advancement in the chosen field with the right set of practical skills that will enable students to outperform others.
Our theory-to-practice curriculum enables students to have comprehensive theoretical knowledge and considerable practical experience in equal measures. N|AM|E's placement Cell offers diverse opportunities to students in Public Relations, Advertising & Marketing, Media & Entertainment, Travel & Tourism, Hospitality, and other related industries.
*Top-up degree awarded by University of Bolton – Academic Centre RAK
Programme Details
Duration:
3 Years (Full Time)
Eligibility:
High School/Grade 12/A/AS Level
or Grade 10 + Foundation Course
Programme Highlights
Digital Communications
Entertainment Project Design
Event Branding & Marketing
Event Photography
Creative Entertainment Technologies
Event Venue & Crowd Management
Social Media Strategy
Wedding Planning
Production and Post-production
Managing Creative Content Development
Events & Entertainment Project Management
Event Team Management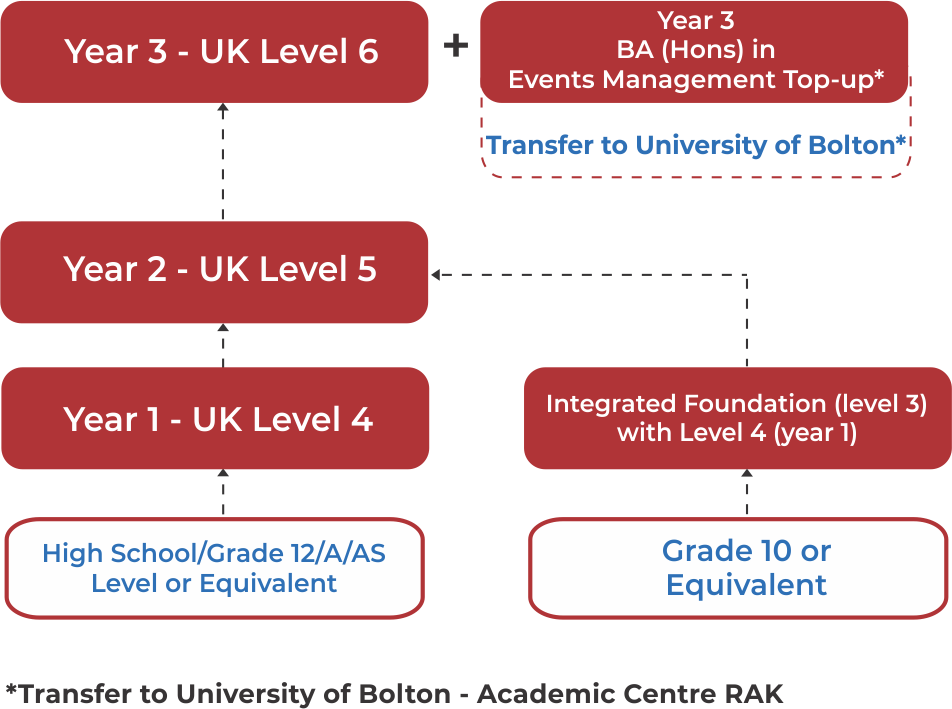 Year 1
Module 1
Introduction to the Events Sector
Module 2
Professional and Academic Skills
Module 3
Sales and Marketing
Module 4
Principles of Management and Human Resourcing
Module 5
Events Project Design
Module 6
Financial and Management Accounting Techniques for Managers
Module 7
Cultural Perspectives
Module 8
Digital Communications
Year 2
Module 1
Events Planning and Operations
Module 2
Event Consumer Experience
Module 3
Risk Management and the Regulatory Environment for Events
Module 4
Work-Based Project and Career Development (double module)
Module 5
Leading Work Teams
Module 6
Business Law
Module 7
Business Ethics
Module 8
Work-Based Project and Career Development (double module)
Year 3
Module 1
Contemporary Issues in Events Management
Module 2
Visitor Management
Module 3
Sustainable Events Management
Module 4
Strategic Management
Module 5
Dissertation
Module 6
Academic and Research Skills
Practical Training Photos
Reach Us
NAME Dubai
306, 3rd & 8th Floor, Block 10
Dubai International Academic City,
Dubai, UAE