Pathway for Top-up to BSc (Hons) Business Management
In the dynamic and highly competitive market, it is imperative to have a thorough knowledge and understanding of all the aspects of Business Management. With N|A|M|E's Pathway for Graduation in Business Management programme, students will be equipped with generalist managerial and leadership skills that will help them start a successful career in Business Management.
This programme is based on the application-based model of learning in which students will gain knowledge of the core subjects. Through case studies, projects, presentations, internships and industrial visits, students will become Business Management experts and will be able to identify opportunities for growth and broaden their career prospects.
*Top-up degree awarded by University of Bolton – Academic Centre RAK
Programme Details
Duration:
3 Years
Eligibility:
High School/Grade 12/A/AS Level
or Grade 10 + Foundation Course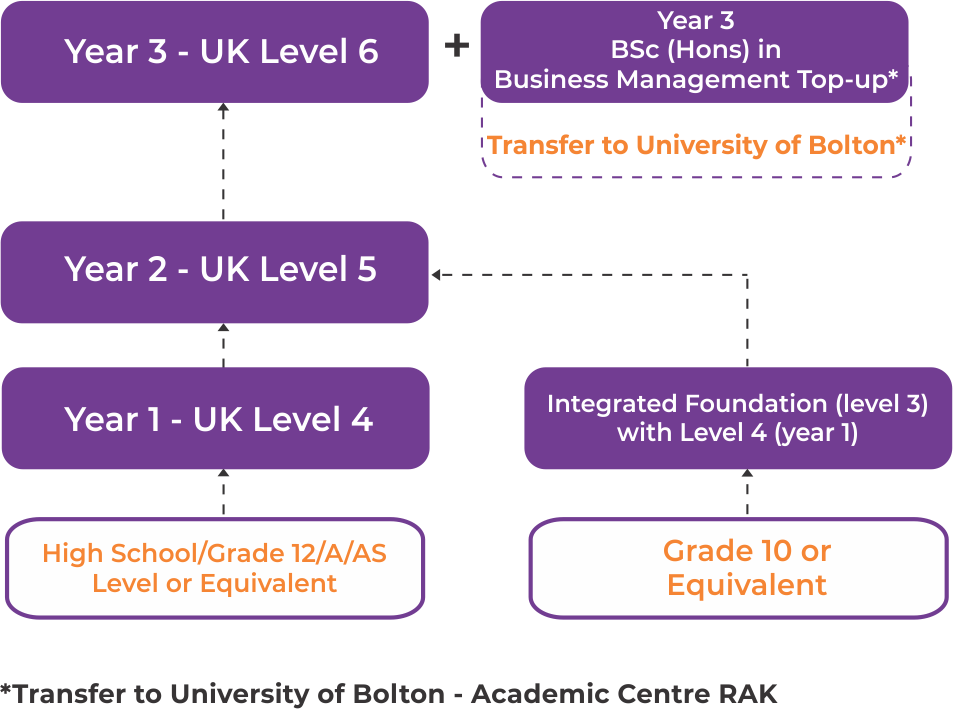 Year 1
Module 1
The Business Environment
Module 2
People in Organisations
Module 3
Financial and Management Accounting Techniques for Managers
Module 4
Communication Skills for Business
Module 5
The Marketing Mix
Module 6
Managing Operations
Module 7
Entrepreneurship
Module 8
Customer Relationship Management
Year 2
Module 1
Business Organisations in a Global Context
Module 2
Research Project
Module 3
People Management
Module 4
Finance for Managers
Module 5
Marketing Principles and Practice
Module 6
Business Law
Module 7
Business Ethics
Module 8
Planning a New Business Venture
Year 3
Module 1
Leadership and Management
Module 2
Personal Leadership and Management Development
Module 3
Managing Quality and Service Delivery
Module 4
Research Project
Finance
Financial Decision Making for Managers
Accounting
Managing Finance in the Public Sector
Economics for Business
Managing People
Human Resource Management
Managing Change
Project Management
Risk Management
Operations Management
Information Systems
Logistics and Supply Chain Management
Managing Change
Project Management
Sales and Marketing
Factors Determining Marketing Strategies
Marketing Communications
Sales
Branding
Reach Us
NAME Dubai
306, 3rd & 8th Floor, Block 10
Dubai International Academic City,
Dubai, UAE