Bachelors Qualification in Films and Media
Digital Storytelling & Immersive Technology For Creative Media Production
The media and creative industries are flourishing in Dubai and the UAE. These industries continue to seek new recruits. However, today, working in media requires understanding digital storytelling and immersive technology. In a few years, virtual reality and artificial intelligence will become more commonplace. Employers in these sectors want people who understand how to integrate new technologies into their work.
Pearson HND >> Credit Transfer >>University of Bolton (UK/UAE)
Progress to University of Bolton to earn your bachelor degree in BA (Hons) in Films & Media upon transfer of credits awarded by Pearson in HND in Creative Media Production (Films) when studying with Nest Academy's Dubai campus. Our school of Immersive Film Studies, throughout your journey of graduation, will equip you with theoretical and practical knowledge to be relevant to the industry and be employable in the world of Films & Media.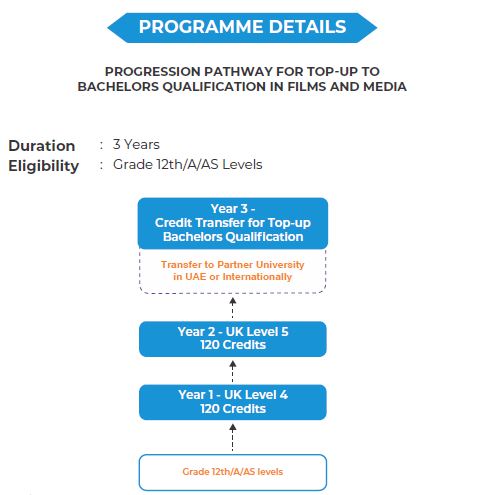 Year 1 & 2
Module 1  – Film
Module 2  – Social Media and Streaming Platforms
Module 3 – Corporate Marketing
Module 4 – Journalism
Module 5 – Television
Module 6 – Advertising
Year 3
Module 1 – Pre-Production Research and Planning
Module 2 – Major Project
Module 3 – Contextualising Theory
Module 4 – Professional Practice
Module 5 – Short-Form Commission
Module 6 – Industry Experience
With our course skills mapped to the Skills Framework for both film and Media sectors, you can look forward to careers such as: 
Filmmaker
Content Producer
Video Editor
Cinematographer
UI/UX designer,
3D artist, Designer
Creative Director
Industry sectors you can work such as:
Gaming
Architecture
Film & Television
Broadcast & Live Events
Automotive & Transportation
Simulation.
Your broad-based skills also enable yo to work as a:
Game Designer, Level designer
Game interface designer
Visual designer
Web designer
Multimedia designer or virtual content producer
Industry sectors you can work such as:
Healthcare Technology
Virtual Content Production
Interaction Design
Human-Machine Interface
Extended Reality
Augment Reality